Skip to main content
Mechanics: Momentum and Energy
Learn about momentum and energy in this calculus-based physics course.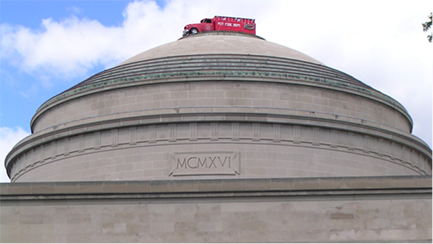 start date
November 8, 2023
About this course
This course is the second of a series of modules that cover calculus-based mechanics. You will learn about the concepts of momentum, impulse, energy, and work, as well as the powerful idea of conservation laws. You will apply these concepts as powerful techniques to solve interesting mechanics problems such as collisions and rockets.
The complete series of modules is based on the MIT subject 8.01: Physics I, required of all MIT undergraduates. The modules are:

To understand the material in this course you should have taken Mechanics: Kinematics and Dynamics. Linked above.
---
The course image is a fire truck on top of the MIT dome. Image taken by Sarahjane10784 https://en.wikipedia.org/wiki/File:MIT_firetruck_hack_2006.JPG
What you'll learn
Momentum and Impulse
Continuous Mass Flow
Work and Kinetic Energy
Potential Energy and Mechanical Energy
Collisions
Prerequisites
High school physics, Calculus (on edX: Calculus 1A, Calculus 1B and Calculus 1C), kinematics and dynamics (8.01x.1)
Meet your instructors
Deepto Chakrabarty

Professor of Physics and Astrophysics Division Head in the Physics Department at MIT

Peter Dourmaskin

Senior Lecturer in the Department of Physics at MIT

Analia Barrantes

Physics Lecturer at the Experimental Study Group at MIT

Saif Rayyan

Former Assistant Director of Academic Programs at the MIT Abdul Latif Jameel World Education Lab (J-WEL).

Michelle Tomasik

Lecturer in the Department of Physics at MIT

George Stephans

Senior Research Scientist in the Laboratory for Nuclear Science and a Senior Lecturer in the Physics Department at MIT